Survey on AI technologies for Image and Video Organisation
Survey open until Wed, 23 March 2022, 23:59 CET
The AI4Media project launches an online survey to collect the opinions of the AI research community and media sector representatives with regard to the use of AI technologies for Image & Video Organization.
The AI4Media project focuses on delivering the next generation of core AI advances and training to serve the media sector. The survey is organized by Imagga, a member of the AI4Media consortium.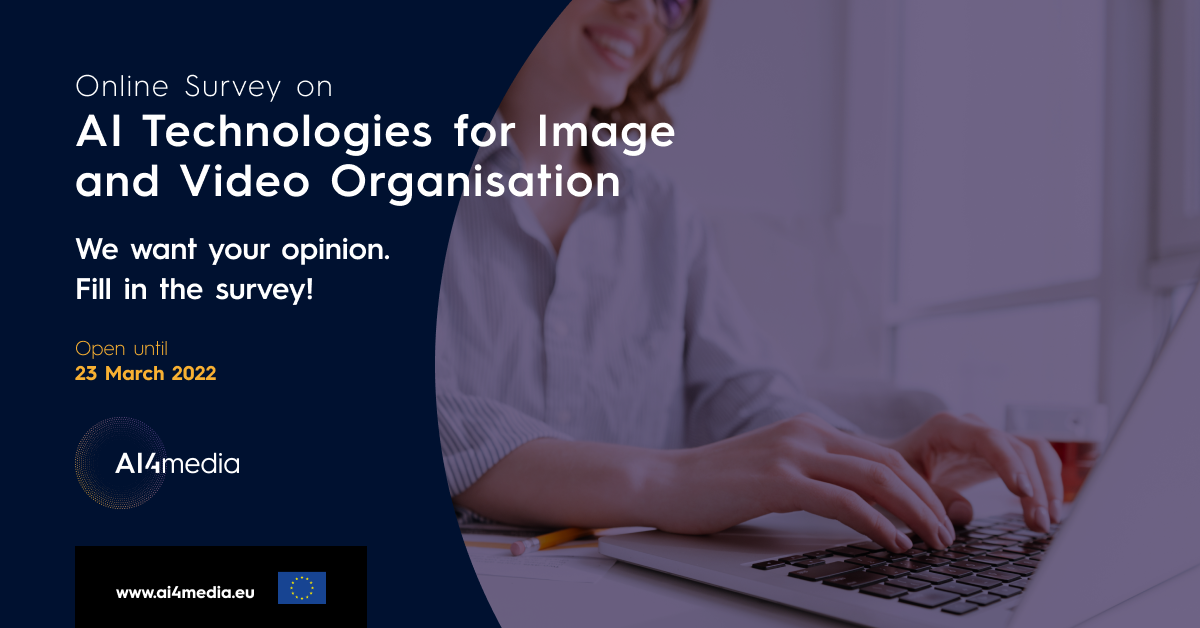 About the survey
The survey will help the AI4Media consortium in harmonizing AI research with industrial needs. The results of this survey will be published as a white paper, part of AI4Media's public deliverable "Initial Pilot Evaluation Report and Synchronizing AI Research with Industrial Needs".
The goal of the survey is to assess and evaluate the need for automated (re) organization of large media collections of photos and video as well as to explore the potential market for professional functionalities and tools for better image and video organization of the content of media companies.
The survey is anonymous, so there is no need to give your name or the name of your organization. Data is not linked to respondents and is only going to be used in an aggregated way in this deliverable or any subsequent AI4Media publications. No personal data of the survey respondents will be collected or stored. The survey takes around 5-10 minutes to complete.
Your opinion is important and would help us a lot!
In case of questions about this survey, please send an email to chris@imagga.com.
You are also welcome to share the information within your ecosystems through the following social media posts published by AI4Media: