AI4Media Open Call #2
Calling all SMEs, entrepreneurs, and researchers working on AI for the Media. Apply to the AI4Media – Open Call #2 for up to €50.000 in funding.
The AI4Media project has €500.000 to fund 10 projects to deliver innovative AI research and application solutions for the media.
Apply Now!
Accepting submissions from 29 September – 30 November 2022 (17h00 CET).
Do not miss the opportunity!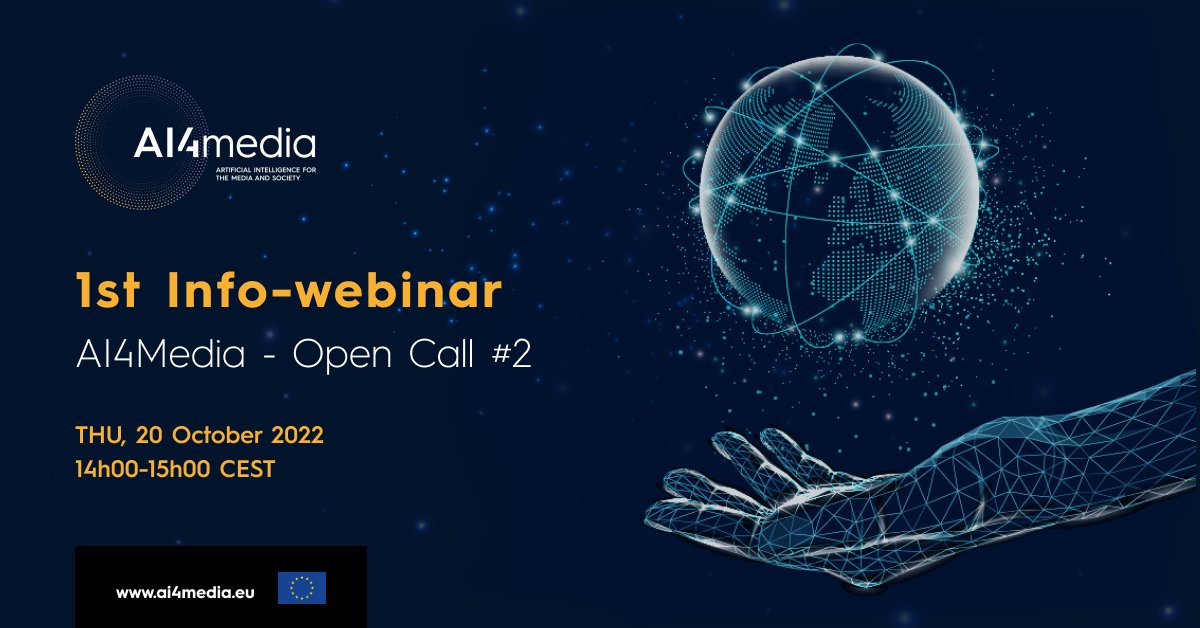 Join us and contribute to the #AI & #Medie Revolution
AI4Media, funded under the European Union's Horizon 2020 research and innovation programme, aims to become a Centre of Excellence by engaging a wide network of researchers and other experts across Europe and beyond, focusing on delivering the next generation of core AI advances and training to serve the media sector, while ensuring that the European values of ethical and trustworthy AI are embedded in future AI deployments.
Single entities, entrepreneurs, SMEs, researchers, and research organisations are invited to submit project proposals for the development of innovative solutions to advance the use of AI in the media. Proposals can target the Research or Application track and must address one of the defined challenges, to develop research and applications and contribute to the AI4Media research and innovation ecosystem and the AI-on-demand platform.
What does the Open Call #2 offer?
The AI4Media – Open Call #2 offers awarded projects equity-free funding and support
Equity-free funding: Up to €50.000 per project.
Market-driven services: dedicated boot camps and online events to support market take-up of developed applications.
Business support: Business support to promote SME's innovations and demonstrate technologies to cluster organisations and media stakeholders.
Research coaching: Research-focused projects will be allocated a coach to support the promotion of the research developed and participation in the AI4Media ecosystem.
Visibility and promotion: major visibility, promotion and networking opportunities are offered as part of the AI4Media project and related networks.
How do I Participate
Participation and proposal submissions are done exclusively via F6S. Visit the AI4Media website to access all information and documentation related to the AI4Media – Open Call #2, including guidelines, the list of challenges, the proposal template, and other reference documentation. The proposal must be submitted on F6S by 30 November 2022 (17h00 CET).
All proposals submitted will be verified, evaluated, and contacted with their result. Awarded proposals will enter into an agreement with AI4Media. Online information webinars will be held during the open call. Stay tuned to the AI4Media website and social media channels for additional details.
Awarded projects will implement their projects over the course of 9 months (Application projects) or 12 months (Research projects) divided into three stages. AI4Media will monitor and support the projects during each of these stages.